Wine Region Ahr

Burggarten Winery
Heppingen
The flood catastrophe literally pulled the ground from beneath the feet of many vintners in the Ahr Valley on July 14 and 15, 2021. Machines, equipment and the already filled wines from previous years were lost. The people of the Ahr Valley have been working ever since to rebuild their home. The wineries in the Ahr Valley have also been working to save their existence–a marathon that will continue for a long time. The wine harvest in the fall was an important step on this difficult journey, as, for many wineries, the grapes in the highest vineyards were the only plants that did not fall victim to the floods. Ultimately, the harvest was successful through the enormous support of countless volunteers, to assure the important production of the 2021 products. In addition to the king of the red grapes, the Pinot Noir, the Pinot Noir Précoce is among the specialties of the region. Germany's little "red wine paradise" will hopefully be rebuilt and blossom again soon. You Ahr not alone!
Meet the Vintners of the Wine region Ahr
Weingut Burggarten 
The Schäfer family has been growing grapes in the Ahr valley since 1898. In 1989, Paul-Josef and his wife Gitta bought the former winegrowers' cooperative house in Heppingen.
and with a lot of energy and passion created today's Burggarten wine estate. Their three sons are now the fourth generation to run it, and in 2019 they made the leap into the renowned Association of German Prädikat Wine Estates (VDP). As a trained winemaker and wine technician with a master's certificate, Paul Schäfer is responsible for the development of the wines. Heiko is in charge of the outside operation and pays particular attention to reducing the yield in order to lay the foundation for the quality of the wines already in the vineyard. Andreas, also a trained winemaker, runs the wine quarter with his wife Verena.


Featured wine:
Spätburgunder Blanc de Noir VDP.Gutswein 

More info in the app!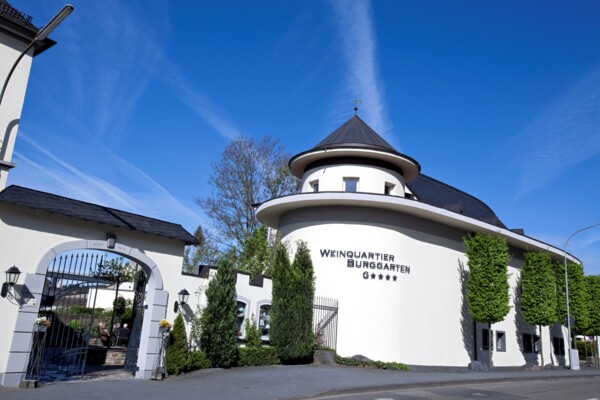 Weingut Kreuzberg 
The Kreuzberg winery in Dernau on the Ahr was founded 70 years ago by Hermann-Josef Kreuzberg senior. In 1994, Ludwig Kreuzberg took over the business. Today, he and his wife Sandra unfortunately manage the vineyard, which has grown to around 10.5 hectares. All grapes are harvested by hand, selected and fermented traditionally in large open vats. Modern oenological processes are dispensed with according to the "unplugged" principle. The winery is a member of the renowned Association of German Prädikat Wine Estates (VDP) and is one of the best known in the Ahr region. The wine guides Gault Millau, Feinschmecker, Eichelmann and WeinPlus rank the winery among the "German top" and among the "outstanding producers with international stature".
Featured wine:
Kreuzberg Spätburgunder trocken - Gutswein 
More info in the app!