Wine region Middle rhine

August Perll Winery
Boppard
Gotthard Emmerich Winery
Leutesdorf
The Middle Rhine Valley is pure Rhine Romanticism. The growing region stretches over 120 km from Bingen to Bonn. The river winds through the history-rich valley past steep vineyards, castles, palaces and the world famous Loreley. The southern section of the unique cultural landscape was named a UNESCO World Heritage Region in 2002. In the heart of the region is Koblenz, the city on the Rhine and Moselle. Riesling, in particular, grows under optimal conditions. It emits a mineral, finely aromatic and vivacious acidity. Covering 70% of the growing space, it is the number one grape type in the Middle Rhine Valley. Additionally, Müller-Thurgau, Kerner and Pinot thrive here. The most important red grape type is Pinot Noir.
 
Meet the Vintners from the Wine region Middle rhine
August Perll Winery
The August Perll winery has been a family business in Boppard on the Middle Rhine for generations. The winery's main building, built in 1606, still adorns the labels of the wines today. Viticultural technician Thomas August Perll has turned his passion for steep-slope viticulture into his profession and accompanies the development from grape to wine with great dedication. On around 10 hectares of vineyards, the family mainly cultivates Riesling in the impressive steep slope Bopparder Hamm. The slate soil is often interspersed with pumice and gives the Riesling its incomparable minerality and fruity aroma. The wines are vinified in the classic style and have already received several awards from the wine guides Vinum Weinguide, Falstaff, Eichelmann and Gault Millau.
Featured wine:
2022 Bopparder Hamm Ohlenberg Riesling Hochgewächs halbtrocken
More info in the app!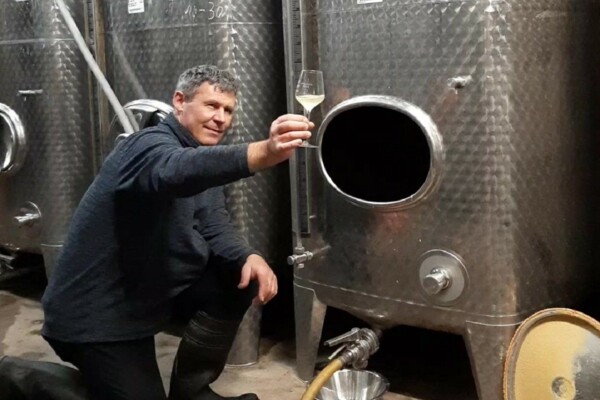 Gotthard Emmerich Winery
The history of the Gotthard Emmerich winery in Leutesdorf in the Lower Middle Rhine Valley can be traced back to 1651. Today, Gotthard and Rita Emmerich manage the family vineyard of around 4.5 hectares in a sustainability-conscious manner and with a great deal of commitment. Early on, they started growing red wine in addition to Riesling. Furthermore, with over 20 years of experience in the cultivation of Burgundy grape varieties, the winery perfectly balances tradition and novelty. In addition to new grape varieties, this also includes innovative marketing channels initiated by Gotthard Emmerich. On the podcast "WeinLust" you can listen to exciting topics about wine, but also various events and menu evenings make vinophile hearts beat faster. 
Featured wine:
2022er Leutesdorfer Mittelrhein Grauer Burgunder feinherb 
More info in the app!