Koblenz Wine festival
5.5. - 6.7.2023
In 2023, the 2nd edition of the Wine Festival will be celebrated with multiple wine-related events.
SEE ALL EVENTS
Download the Wine Festival App!
You'll have the perfect overview of all events, information and festival wines!
MORE INFO
2nd Edition of the Koblenz Wine Festival
80 Days About Wine

In 2023, the Koblenz Wine Festival will take place from May 5th to July 6th. In line with the motto "80 days about wine", a multitude of events will take place featuring Koblenz and the wine-growing regions of the Moselle, Ahr and Middle Rhine Valleys. We're already looking forward to the second Wine Festival in 2023!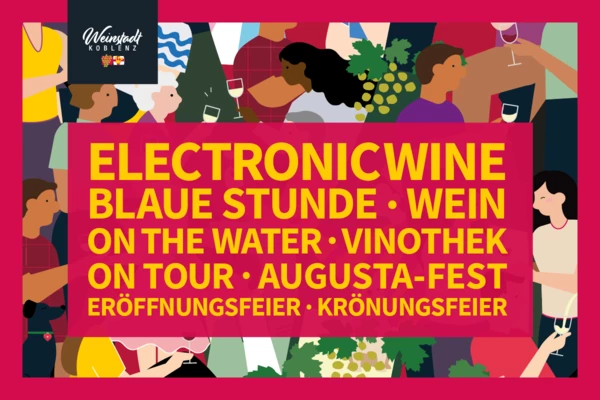 WeinKaiserWein 2022
The pinot blanc "Gülser Bienengarten" 2021 from the Lunnebach winery was crowned as the winner of the first ever Koblenz Wine Festival in 2022! The visitors at all of the wine festival events had the opportunity to vote on their favourite wines, using the festival app. With 40% of the votes, the decision was handily given to the "Gülser Bienengarten" pinot blanc, which will carry the title of "WeinKaiserWein 2022" for one year.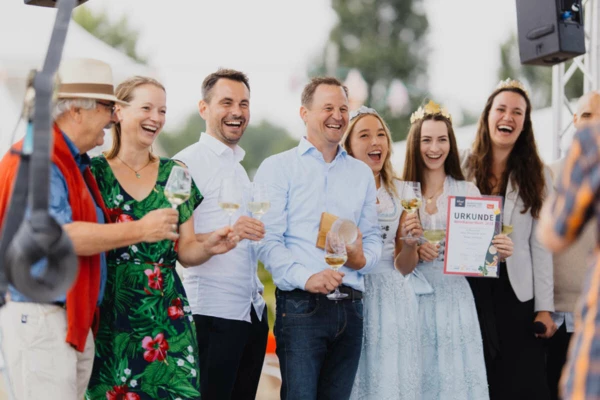 Event Highlights of 2022
Electronic Wine
After two years of a pandemic-related break, Electronic Wine was finally able to take place again. The popular mini music festival featured riesling, pinot noir and more as the main acts on the Deutsches Eck. Drum and Bass, Techno, Deep and Tech House, combined with a lounge atmosphere and an illuminated stage, provided two unforgettable days and a party for all the senses.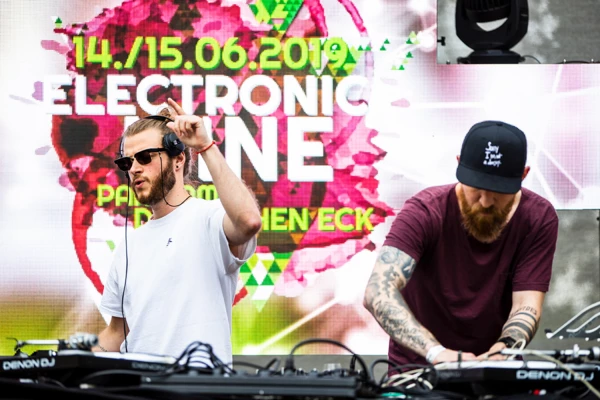 Wine on the Water
On April 23rd, the passenger ship "Stadt Vallendar" was transformed into a party location. On board: 15 festival wines from the wine city of Koblenz as well as the wine regions of the Moselle, Middle Rhine, Ahr and the guest region of Wachau, Austria. Also on board: Antenne Koblenz Resident DJ Frank Duxxx.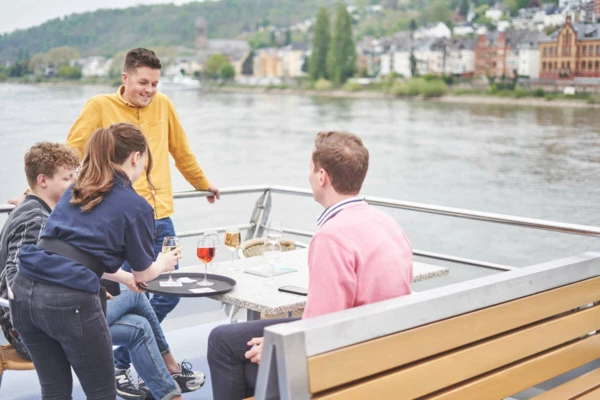 Wine Salon
Wine and indulgence were at the forefront of our talks during the Wine Salon in the Garden Hall of the Electoral Palace. Vintners and representatives of wine culture opened up new perspectives on the cultural good.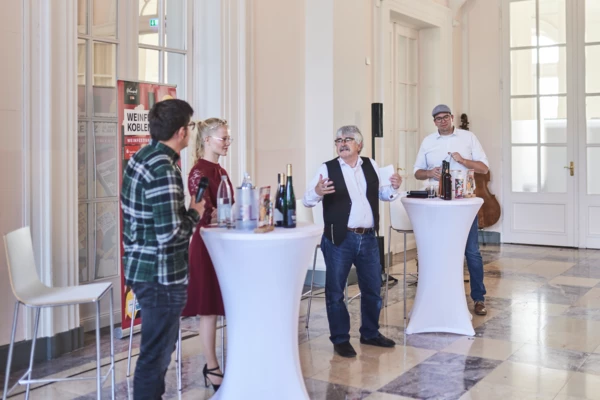 Visit Wine
At various wineries around Koblenz, we invited guests to wine tastings during which they could learn more about the cultural landscape and meaning of viniculture. With an idyllic view of the mountain vineyards, one could sample wine right where it was grown.